The town of Vernazza is in the area of Cinque Terre, that is the part of coast characterized by small villages and terracings used to cultivate the olive tree and the vines.

This village is considered one of the most beautiful of Italy, characterized by the piazzetta that goes to the sea, the small harbour where already the Roman came to fill their amphoras with Vernaccia, the valuable wine of the zone, and by the church, imposing, that faces the sea. The church, dedicated to Santa Margherita di Antiochia, has been built in 1318. Besides the church, to frame the harbour there is the tower of the old Doria castle, rest of the ancient fortifications.

Vernazza then has the typical narrow streets of Liguria, and from the town some charming paths start: thay will let you discover of the beautiful territory of Cinque Terre. Moreover every year there is the traditional Festivity of Santa Margherita di Antiochia (20 July), with market and fireworks.


Images Cinque Terre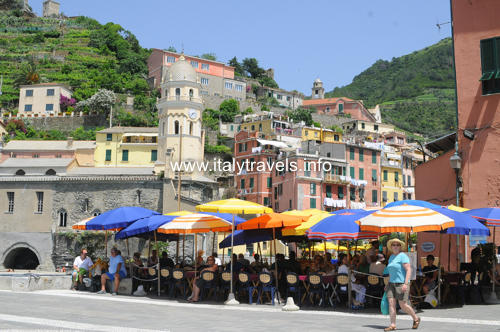 ... more images of Cinque Terre